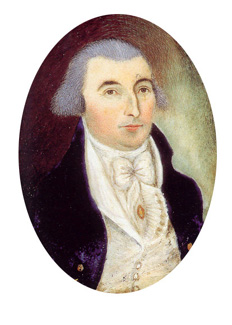 Click on the image for a larger view


Abraham Alexander, Sr. (1743–1816)
Attributed to Lawrence Sully (1769–1804)
United States, ca. 1795
Watercolor on ivory
Carolina Art Association/Gibbes Museum of Art,
Charleston, S.C.
Son of a rabbi and a noted Hebrew scholar, at age 23 Abraham Alexander sailed from London to South Carolina to become the second hazzan, or religious leader, of congregation Kahal Kadosh Beth Elohim. He resigned in 1784 when he married his second wife, Huguenot widow Ann Sarah Huguenin Irby, whom he had befriended during the British siege of the city.