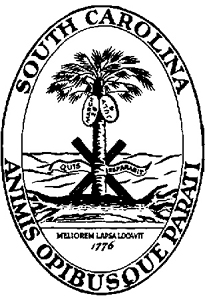 Detail, Seal of the State of South Carolina—the "Palmetto State."

The spiky-leafed palmetto, pictured on the South Carolina state seal, harks back to the Revolutionary War. Used in the construction of Fort Moultrie on Sullivan's Island, the dense, fibrous palmetto trunks absorbed the cannonballs hurled at the patriots by the British. In 1861, after South Carolina seceded from the Union, the palmetto joined the crescent moon on the state flag, and in 1939 was officially adopted as the state tree.
In October 2000, photographer Bill Aron wound his way from the upcountry of South Carolina, across the midlands to the coastal cities of Myrtle Beach, Georgetown, Charleston, and Beaufort. Aron's images capture the major developments in Jewish life over the past 50 years. As elsewhere in the nation, South Carolina's Jewish merchants begot a generation of lawyers, doctors, accountants, and college teachers, who shifted the Jewish economic niche from retail business to the professions. With the rest of the white American mainstream, urban Jews abandoned downtown for the suburbs—a migration that coincided with the growth of Conservative Judaism and the first stirrings of the Civil Rights movement.
South Carolina's Jews today are as much "a portion of the people" as they were in the early 1800s when Charleston writer and reformer Isaac Harby penned the phrase. Perhaps the chief distinction they share with other southern Jews is a sense of security that stems from the early presence of a Jewish elite. In the South, history counts. And history works in favor of Palmetto Jews.
Photograph Essay by Bill Aron
October 17–November 1, 2000
Courtesy of the Jewish Heritage Collection,
College of Charleston Library