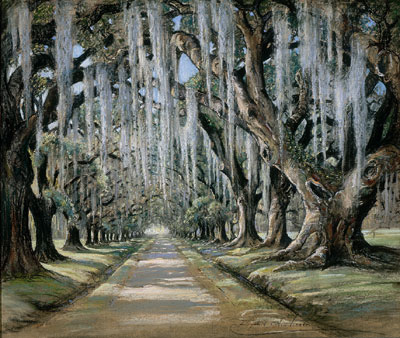 Avenue at the Oaks, Goose Creek, by Elizabeth O'Neill Verner, ca. 1940. Carolina Art Association/Gibbes Museum of Art, Charleston, S.C.
Charleston's large, cultured Jewish community generated the first organized effort to reform Judaism in America, the Reformed Society of Israelites. From the birth of Reform to the cataclysm of the Civil War, the cast of characters includes Jewish landed gentry, as well as newcomers from central Europe who spread out across South Carolina and set up shop in every market town.
With the outbreak of war southern Jews became Johnny Rebs. They fought and died for the Confederacy, donated ships and money, worked in hospitals, toiled on the home front, and were devastated by defeat. After the war a violent contest arose between Radicals, who championed Reconstruction, and Redeemers, who sought a return to white rule. The antagonism is personified here by Franklin J. Moses, Jr., and Edwin Warren Moïse, two men of Jewish descent who found themselves on opposite sides of a great divide.