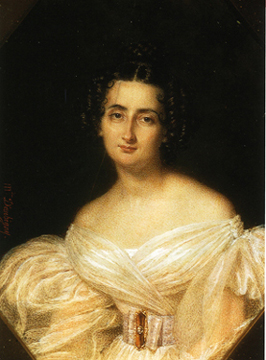 Click on the image for a larger view


Phebe Yates Lazarus
(Mrs. Joshua Lazarus) (1794–1870)
Amélie Dautel D'Aubigny (ca. 1796–1861)
France, ca. 1840
Watercolor on ivory
Gift of Mrs. Edgar M. Lazarus
Carolina Art Association/Gibbes Museum of Art
Charleston, S.C.
Phebe and Fanny, sisters from a wealthy Liverpool family, both married Jewish men from South Carolina. In 1817, Charleston-born Jacob Clavius Levy and Joshua Lazarus traveled to Europe to study. The two friends fell in love with Fanny, the seventh and youngest daughter of Samuel Yates. In deference to Levy, Lazarus withdrew his attentions. Fanny and Jacob were married in Liverpool, then returned to live in South Carolina where, according to family lore, "at her first appearance in the dress circle of the Charleston Theatre in Broad Street, the whole house rose in tribute to her matchless beauty." Almost 20 years later, in October 1835, Joshua Lazarus married Fanny's then 41-year-old sister Phebe.